An Investment In North Dakota's Future
State Energy Research Center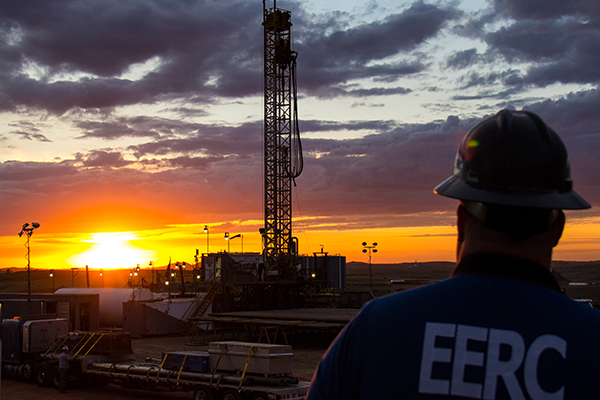 Exploratory, innovative, and transformational research that advances future energy opportunities
In 2019, the North Dakota legislature designated the EERC as the energy research center for North Dakota. The State Energy Research Center of North Dakota (SERC) is focusing on emerging topics critical to the state's energy industry and environmental challenges, such as flaring reduction, pipeline safety, efficient lignite use, and increasing oil recovery while decreasing environmental impacts.
Our scientists and engineers are dedicated to advancing technologies to create abundant clean energy and improve the way we use it in our modern world.
These projects are far more valuable than the money we've received. They are

producing results that could have billion-dollar effects

on North Dakota energy

.

Tom Erickson

Director, State Energy Research Center
This Research Puts North Dakota on the Forefront of Innovation.
Through SERC, we're ensuring the state's energy resources and products remain accessible, affordable, environmentally responsible, and clearly understood through education and outreach. This is being done through early-stage research that could ultimately lead to commercial application with public and private sector partners. Commercial deployments and demonstrations of mercury control at North Dakota power plants, enhanced oil recovery in the Bakken, and carbon capture from lignite coal-fired facilities were all made possible because of this type of fundamental research.
Research with Results
In the summer of 2019, funding through the SERC designation was distributed to several EERC researchers for proposed projects. 10 projects were selected, and a few have been recently completed, including research focused on electromagnetic pulses, rare-earth element recovery, and energy storage, as they relate to North Dakota energy infrastructure and sustainability. These are specifically designed to be a first step in the R&D process, giving further advancement opportunity to North Dakota companies.
Universities collaborating in SERC
new invention disclosures
Proud to Serve North Dakota
Through SERC funding, researchers at the EERC identify and develop new technologies and strategies that have the ability to directly benefit the state of North Dakota, the industries operating in North Dakota, and the citizens of North Dakota.
Energy Education Resource
The SERC E-Portal is North Dakota's energy education resource. Search for documentaries, infographics, videos, and other resources on energy.

For More Information