Red Trail Energy CCS
This research project is assessing the technical and economic feasibility of integrating carbon capture and storage (CCS) with ethanol production processes to reduce net CO2 emissions. North Dakota has both significant ethanol production capacity and geology well suited for safe, permanent CO2 storage. CCS may also be an economical option for reducing CO2 emissions to qualify for market credits by meeting the requirements of low-carbon fuel programs in other states. No CO2 injection will occur during this research project.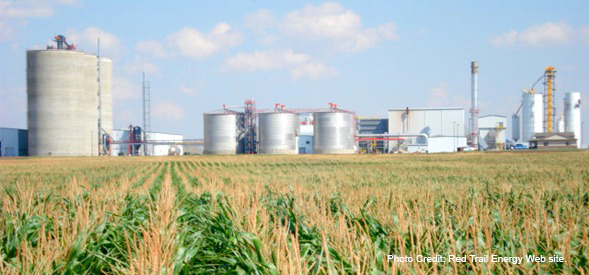 Low-Carbon Fuel Program Eligibility
Commercial technologies to capture and separate CO2 emissions from the fermentation process already exist and have been in use for nearly 40 years. This study provides local ethanol producers with a detailed assessment of the commercial and economic feasibility of incorporating capture, transport, and storage of the CO2 emissions within their production operations. The ultimate goal of this effort is to implement commercial CCS at an ethanol production facility to make a CCS-fuel that qualifies for low-carbon fuel programs.
The objective of low-carbon fuel programs is to reduce the greenhouse gas emissions of transportation fuels. The details and standards for these state government programs are determined by the legislators and regulatory agencies that develop and design them. As of March 2020, California, Oregon, and British Columbia have active low-carbon fuels programs. Other areas of the United States looking to pass bills to establish a low-carbon fuels program are Washington State, Colorado, and several midwestern states as well as federal Canadian and Brazilian efforts.
Commercial CCS for Red Trail Energy
The project is looking at a commercial CCS effort at Red Trail Energy's ethanol-manufacturing facility near Richardton, North Dakota. This includes capture technology, permanent geologic storage, economic impact, and permitting. Through this research, the Broom Creek Formation, a thick sandstone rock layer located approximately 6400 feet below the Richardton facility, has been confirmed as a safe and viable target injection zone for geologic storage of captured CO2. According to studies conducted by the Energy & Environmental Center (EERC), the formation is sealed by shales thousands of feet thick and is expected to make an excellent permanent storage container. The research is also investigating qualifications to be eligible for low-carbon fuel programs while complying with North Dakota regulations for CO2 injection and permanent storage.
As of January 2021, the North Dakota Department of Mineral Resources (NDDMR) Division of Oil & Gas (under the Industrial Commission of North Dakota) is one of only two state regulators that have received authority from EPA to permit and regulate CO2 injection wells for geologic sequestration (Class VI). This is official recognition by EPA that the NDDMR's comprehensive regulations for dedicated permanent CO2 storage wells meet or exceed EPA's standards and that entities that want to develop CCS sites can work directly with the regulators most familiar with the geology and environmental conditions in North Dakota. The outcome is anticipated to be a faster process (i.e., CO2 emissions eliminated sooner), more reliable for industrial partners, and more accessible with more direct oversight for human safety and environmental protection.
Project Partners
The EERC in Grand Forks, North Dakota, manages the research project on behalf of Red Trail Energy and the North Dakota Industrial Commission Renewable Energy Program, with participation from Schlumberger Carbon Services and Computer Modelling Group Ltd. Partners in earlier phases of research included the U.S. Department of Energy and Trimeric Corporation.
Research Results
Starting in late 2016, the Red Trail Energy case study began evaluating the potential for CCS integration with ethanol production at the Richardton location. EERC research successfully demonstrated preliminary technical and economic feasibility of CCS technology at the site. Given the promising early results, the research then focused on more in-depth assessments, such as detailed designs and plans for capturing, transporting, and storing CO2 specific to the Red Trail Energy ethanol facility. The research progressed to investigating the site's geology and gathering the information needed to comply with state regulations for injection and permanent storage.
Results of a geophysical survey carried out in March 2019 showed promising geology under the ethanol plant east of Richardton. Building on those results, two holes were drilled to the potential storage zones to collect rock samples, fluids, and other geologic data to enhance the geologic models and improve the accuracy and precision of the CO2 injection simulations. Drilling and sample collection were completed in spring and fall 2020. Analyzing the data and evaluating the geology/refined models lasted the remainder of 2020.
Next Steps
As laid out in Department of Mineral Resources (DMR) regulations, a complete North Dakota carbon storage permit application was developed and submitted February 2021. All research results from previous phases were compiled into a five-part package of evidence making the case for safe, permanent geologic storage beneath the RTE ethanol plant.
The DMR, in consultation with the North Dakota Department of Environmental Quality, will evaluate the permit application to determine whether approval should be granted. This first-time regulatory process is estimated to take 8–12 months and includes a public comment period and hearing. Approval would bring Red Trail Energy one step closer to becoming the first facility in North Dakota to commercially capture and permanently store CO2 in the deep subsurface.
Entities applying to permanently store CO2 in deep geologic formations must show that the planned operation is safe and that the target formation, a.k.a. storage facility, will hold and contain the amount of CO2 to be injected. The Storage Facility Permit application package includes evidence organized by the five categories: 1) data and information sources; 2) storage reservoir; 3) confining zones; 4) faults, fractures, and seismic activity; and 5) potential mineral zones.
Infographics and Fact Sheets
For More Information